Genre
Teen dramaMystery
Based on
Thirteen Reasons Why
by Jay Asher
Developed by
Brian Yorkey
Starring
Dylan MinnetteKatherine LangfordChristian NavarroAlisha BoeBrandon FlynnJustin PrenticeMiles HeizerRoss ButlerDevin DruidAmy HargreavesDerek LukeKate WalshBrian d'Arcy JamesGrace SaifBrenda StrongTimothy Granaderos
Narrated by
Katherine Langford (season 1)Various (season 2)Grace Saif (season 3)
Opening theme
"Oh in This World of Dread, Carry On" by Eskmo
Composer(s)
Eskmo
Country of origin
United States
Original language(s)
English
No. of seasons
3
No. of episodes
39
imdb
7.8
prabashanas rating
7.8
WHAT'S THE STORY?
13 REASONS WHY follows Clay Jensen (Dylan Minnette) as he wrestles with his feelings after the recent suicide of his classmate and crush, Hannah Baker (Katherine Langford). Haunted by their brief friendship and her shocking death, Clay is surprised when a package arrives containing audio tapes on which Hannah chronicled the 13 matters — and 13 people who caused them — that led her to end her life. As Clay listens to each side and follows clues Hannah left on the recordings, he retraces events that reveal secrets and her peers' roles in them, connecting the dots that inspired her death. The second season follows Clay and his friends as they continue to process Hannah's death five months later. The court case against Liberty High continues, and most of the characters are called to testify. There's a focus on justice for victims in this season, and issues like self-harm (in the form of cutting), gun violence, loneliness, heroin addiction, slut-shaming, and more are addressed.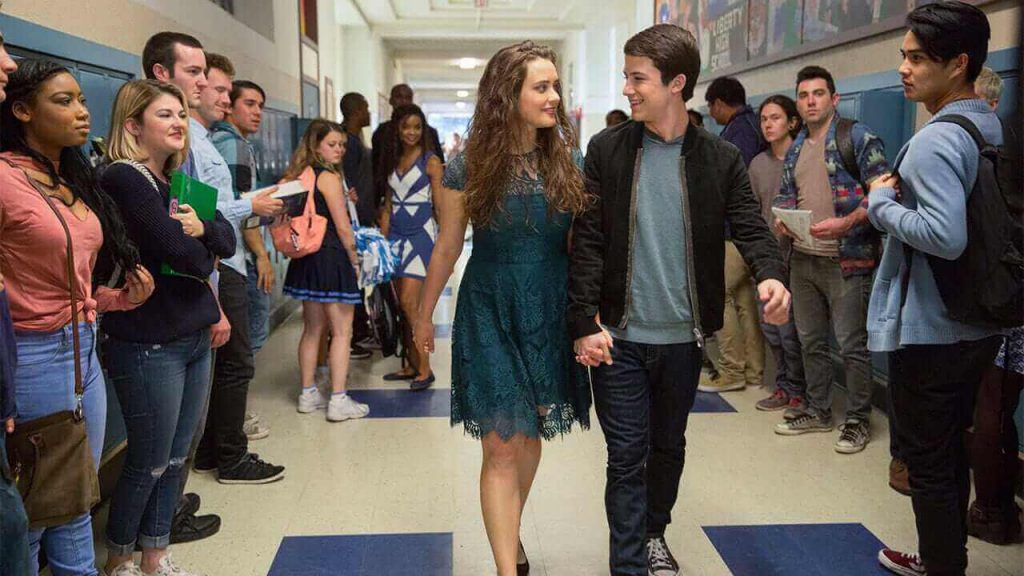 IS IT ANY GOOD?
This series isn't a pleasant watch by any means, but it does raise vital issues that can inspire valuable discussions between parents and teens. There are two disturbing forces at play throughout the story, the first being Hannah's downward spiral and the circumstances that instigated it. Serious matters like cyberbullying, body image, sexual assault, drug abuse, and gun violence are addressed unflinchingly; these scenes can be extremely graphic and difficult to watch for adults, let alone the targeted teen audience.
Hannah's choices are also complicated; it's clear that she blames others for her suicide. One wonders what, if anything, she hoped to gain by inflicting posthumous guilt on parties either actively engaged in tormenting her or innocently involved. As 13 Reasons Why is told from Clay's point of view, there's sympathy for him and others left behind, giving viewers a thought-provoking glimpse of what it's like to pick up the pieces after a suicide. In the second season, Clay's journey continues, and watching him and his friend group work through even more brutal challenges is nearly too much to bear, but there's also beauty in Clay's processing of grief and Jessica's courage to speak up about her sexual assault. A side plot about a potential school shooting is a bit sensationalized but also highlights the pain of loneliness. At-risk teens should take great care in choosing to watch this very graphic and frank series, but families with mature teens may find that it opens up doors to talk about some difficult subjects.
93% Google users liked this TV show
TV DETAILS
Premiere date: March 31, 2017
Cast: Dylan Minnette, Katherine Langford, Brandon Flynn
Network: Netflix
Genre: Drama
Topics: Book Characters, High School, Misfits and Underdogs
TV rating: NR
Available on: DVD, Streaming
Last updated: March 13, 2020