Initial release: July 24, 2019

Director: Quentin Tarantino

Box office: $389.1 million

Budget: $90–96 million
Being familiar with the gruesome events that occurred on Cielo Drive on August 8, 1969, I watched in nervous anticipatory horror as the page turned to that night in Quentin Tarantino's latest film Once Upon a Time… in Hollywood. Without spoiling anything, I will say that where history went in one direction, Tarantino took a left turn into an exhilarating third act climax that was thrilling. And as the froth settled in the end, I found myself getting – dare I say – misty.
Tarantino's latest outing is many things. Like all of his films, it goes on and on, drilling into the minutiae of characters' lives, habits and quirks, whether it's the way Leonardo DiCaprio's Rick Dalton drinks or how Brad Pitt's Cliff Booth feeds his dog or makes Kraft Macaroni & Cheese. The movie is, of course, violent, but comically so as always. One thing I did not expect from a Tarantino film, however, was the sweetness with which it ends. On a major level, the movie is a valentine to Sharon Tate.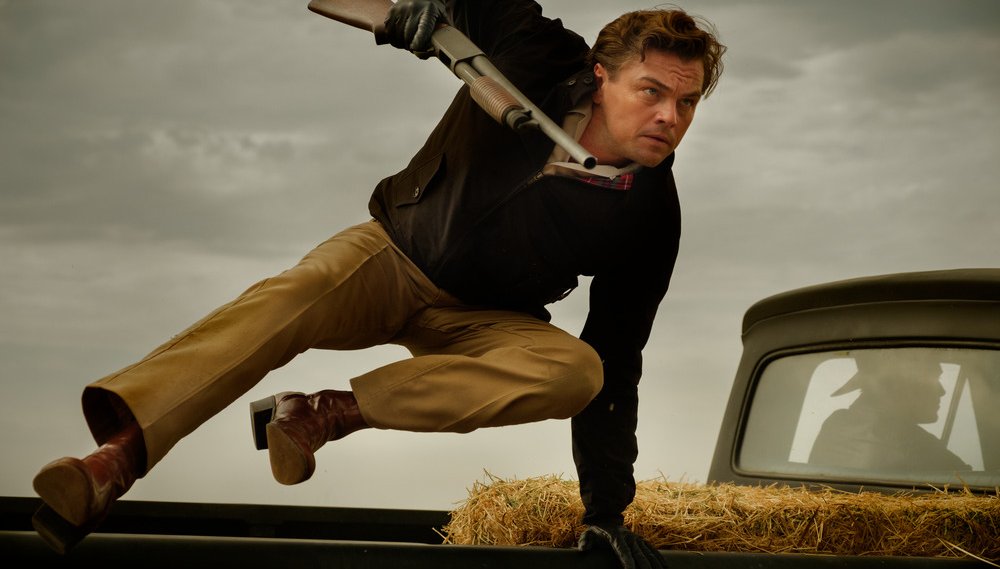 In the middle act of the film, Tarantino cuts back and forth to an imagining of Tate over the course of an afternoon in early 1969, which she spends at a movie house. Tate is played by the stunning blue eyed Margot Robbie in contact lenses to match Tate's brown, and she is lit, costumed and framed luminously and lovingly. While Tate is watching herself in The Wrecking Crew, a late 1968 film in which she starred with Dean Martin, we're watching a girl taking humble pride in her performance and enjoying the laughs she's getting from her unsuspecting fellow moviegoers. It's a touching scene, particularly since we know the actual fate that would befall her later that year. When Tarantino cut to the scenes from The Wrecking Crew, I was really impressed that he used actual footage of Sharon Tate herself instead of a digital insertion of Robbie into the film. It was a moving choice and a fitting tribute.
As for Once Upon a Time's marquee stars, Leonardo DiCaprio and Brad Pitt, they delivered. The film focuses on fading actor Rick Dalton (DiCaprio) and his stunt double Cliff Booth (Pitt) while they negotiate dwindling opportunities as the 1960s come to a close along with Hollywood's Golden Age.
I'm about to commit pop culture blasphemy here, but I'll come clean: I've never been blown away by Leo. To me, the hype surrounding him is just that. Hype. But in this movie, he knocked it out of the park. His performance here is his most nuanced and mature.
As Leo's stunt double and kinda-sorta best friend, Pitt plays the aging Cliff Booth as a case study in navigating life by rolling with the punches and accepting life on life's terms. His career, which has him living in a trailer at his age, is in the toilet, and, other than driving Leo around and doing odd jobs for him, he doesn't have a whole lot of options. To a lot of men, that would warrant a crisis or a drinking problem. To Pitt's terminally genial Cliff Booth, it's all going to be okay. Even after getting violently injured, he manages to carry it off with bonhomie.
Tarantino's palpable love of Los Angeles and vintage Hollywood pop culture produces a film that I wanted to dive into. It looks delicious. The colors, the cars, the clothes, the sets… it's a really fun movie to look at. And, along with his signature cartoonish Tarantino violence comes the fantastic Tarantino music supervision. The actual and fictionalized events depicted in the movie all took place the year before I was born, but I've always loved and appreciated the look and sounds of that time.
At the end of the day, Tarantino has made another spectacularly entertaining film. One worth watching again. But on his ninth outing, he did something different. What struck me most as I walked home from the movie theater was a feeling I've never experienced after a Tarantino movie. The feeling was all about Sharon Tate and what could have been. The result was a feeling of sweet sadness. For Tarantino, that's a new twist.