Rick and Morty is a series like no other. The unique blend of sci-fi, character introspection, nihilism, humor, and world-building makes it one of the most interesting shows of all time. We can spend days discussing what makes Rick and Morty such a fascinating show. In fact, we've been covering the series at length since it premiered in 2013.
With that said, other shows have that same level of entertainment value. Featuring colorful characters, strange adventures, and that crass humor you've come to love from Rick and Morty. Now, that's not to say the series is not unique; we just think other shows are out there for you to check out if you haven't already. Here are top 10 cartoons like Rick and Morty
10. Final Space
Director: Mike Roberts, Dan O'Connor, Yoriaki Mochizuki, Ben Bjelajac, Chris Paluszek, Anne Walker Farrell
Writer: Olan Rogers, Ben Mekler, Jane Becker
Voice-over Cast: Olan Rogers, Tom Kenny, Tika Sumpter
IMDb Rating: 8.3/10
Rotten Tomatoes: 70%
Streaming Platform: Netflix
Final Space is a newer sci-fi animated series that mostly takes place in space as the title suggests. It follows an astronaut called Gary who is working off a prison sentence when he meets an alien called Mooncake who is being tracked down so Mooncake's powers can be used for evil.
The series follows Gary and Mooncake's adventures through space in a comedic way similar to Rick and Morty.
---
9. Futurama
Director: Matt Groening
Writer: Matt Groening, David X. Cohen
Voice-over Cast: Billy West, John DiMaggio, Maurice LaMarche, Lauren Tom
IMDb Rating: 8.4/10
Rotten Tomatoes: 95%
Streaming Platform: Youtube
Futurama, which sets at the number-one spot on this list, is also from the great Matt Groening. In it, Philip J. Fry ended up in the 31st century, and sadly, his story ended in September 2013. There was an audio-only episode in 2017, but that is not the same!
Fans love seeing the flying cars and non-human characters and crazy situations — just like in Rick and Morty. This is another one of TV Guide's Greatest TV Cartoons of All Time, and there are many similarities between it and between the series starring Rick Sanchez and Morty Smith.
---
8. Mr. Pickles
Speaking of an adult cartoon that feels like it came from the hellish depths of the minds of whoever wrote disgusting Interdimensional Cable skits, Mr. Pickles from Adult Swim is relentlessly crude– in a funny way. It features over-the-top shock and gore with lots of satanic iconographies.
The whole show revolves around the dog protagonist, Mr. Pickles who is living a double life as a Satanist while protecting his disabled and clueless human boy owner. The most shocking part of the show is that Mr. Pickles isn't even the evilest character.
Director: Will Carsola
Writer: Dave Stewart
Voice-over Cast: Brooke Shields Dave Stewart Frank Collison Jay Johnston Kaitlyn Robrock Will Carsola
IMDb Rating: 7.4/10
Rotten Tomatoes: 77%
Streaming Platform: Hulu
---
7. Solar Opposites
Director: Justin Roiland, Mike McMahan
Writer: Justin Roiland
Voice-over Cast: Justin Roiland Thomas Middleditch Sean Giambrone Mary Mack
IMDb Rating: 8.0/10
Rotten Tomatoes: 96%
Streaming Platform: Hulu
At first glance, one might mistake Solar Opposites for an episode of Rick and Morty. That's because Justin Roiland, Rick and Morty's co-creator, is one of the people responsible for this alien family comedy cartoon.
Some might even say that it feels like an expanded version of an Interdimensional Cable skit from Rick and Morty or one of the many dimensions of that show. Either way, it's worth watching in Hulu for Justin Roiland's brand alone and a crossover with Rick and Morty seems inevitable.
---
6. Invader Zim
Director: Steve Ressel, Jordan Reichek
Writer: Jhonen Vasquez
Voice-over Cast: Richar Steven Horvitz, Rosearik Rikki Simons, Jhonen Vasquez, Lucille Bliss, Kevin McDonald, Andy Berman, Melissa Fahn, Rodger Bumpass, Wally Wingert
IMDb Rating: 8.3/10
Rotten Tomatoes: 95%
Streaming Platform: Youtube
Last but not least a kids' cartoon that was way ahead of its time (and its rating) from Nickelodeon, Invader Zim. It's a morbid and darkly unapologetic sci-fi show that follows the story of Zim, an alien from the planet Urk whose sole mission is to singlehandedly invade Earth to earn approval from his superiors.
The problem is, he's incompetent and a human boy named Dib made him out. What follows is a human vs. alien rivalry done unlike any other in cartoons with frequent dashes of absurdist humor and unhinged characters where Zim appears to be the most stable and most human, ironically.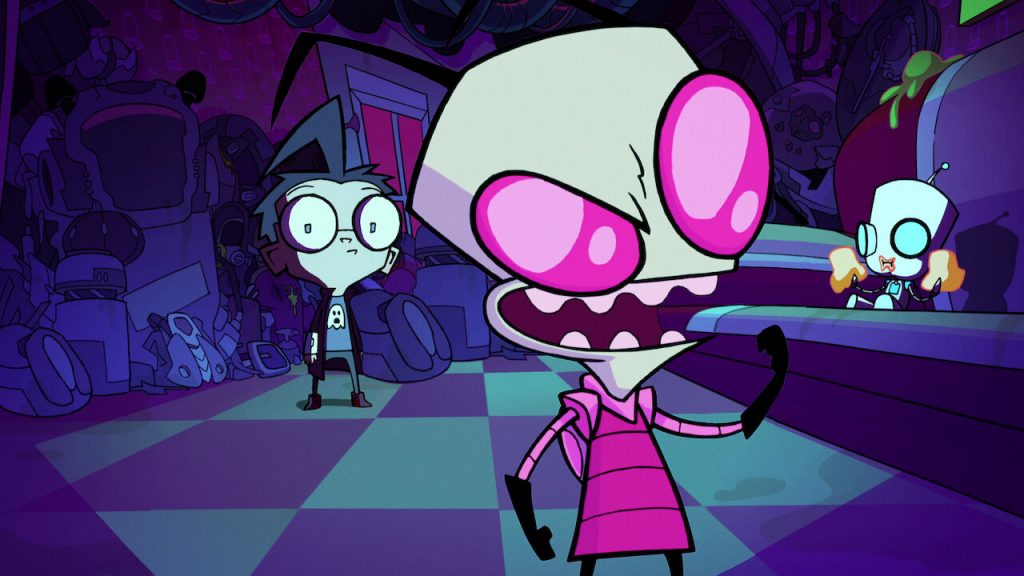 ---
5. Bojack Horseman
Director: Raphael Bob-Waksberg
Writer: Raphael Bob-Waksberg
Voice-over Cast: Will Arnett, Alison Brie, Aaron Paul, Amy Sedaris, Paul F. Tompkins
IMDb Rating: 8.7/10
Rotten Tomatoes: 93%
Streaming Platform: Netflix
This Netflix original follows a washed-up 90s actor named Bojack Horseman. By the way, he's an anthropomorphic horse if the name didn't give it away. Bojack Horseman is a comedy but dives headfirst into the character's self-loathing nihilistic nature. The series uses comedy as a way to ease the viewer into the heavy subject matter. It's very similar to the way Rick and Morty handle Rick's nihilism.
A show tackling depression, divorce, sexuality, and anxiety is not something you'd expect from a comedy about a horseman. It never glamorizes Bojack's troubles. Instead, it sheds light on what people deal with daily.
It uses humor to tell a powerful story, and that's what makes it such a fantastic series. If your favorite episodes of Rick and Morty are "Ricksy Business" or "Auto Erotic Assimilation," then Bojack Horsman is the show for you.
---
4. Steven Universe
Director: Rebecca Sugar
Writer: Rebecca Sugar
Voice-over Cast: Michaela Dietz, Estelle, Zach Callison, Deedee Magno
IMDb Rating: 8.2/10
Rotten Tomatoes: 100%
Streaming Platform: Netflix
Now on to lighter and Rated G or E cartoons, Steven Universe is a Rick and Morty adventure if Morty chose the escapade and if the whole multiverse was not messed up and nihilistic. That doesn't make it boring though unless you're Rick Sanchez.
Steven Universe is about Steven and his three Crystal Gem friends who are guardians of worlds. Steven himself is also part-Crystal Gem and is entrusted to save worlds in various adventures. Apart from the charming story and characters, the soundtrack is also what's going to keep viewers coming back for more.
---
3. The Regular Show
Director: J. G. Quintel
Writer: J. G. Quintel
Voice-over Cast: William Salyers, Sam Marin, JG Quintel, Mark Hamill, Sam Marin
IMDb Rating: 8.4/10
Rotten Tomatoes: 96%
Streaming Platform: Netflix
Like any good comedy show featuring two partners with chemistry, The Regular Show follows nearly the same format as Rick and Morty. Each episode is a short journey where the two protagonists are constantly placed in situations out of their control.
The difference is that Mordecai and Rigby, the show's heroes, are humble working-class average Joes, except they're anthropomorphic animals. Their friends are also equally weird and inhuman which is part of the show's allure.
---
2. Adventure Time
Director: Larry Leichliter
Writer: Pendleton Ward
Voice-over Cast: Jeremy Shada, Hynden Walch, Tom Kenny, Pendleton Ward
IMDb Rating: 8.6/10
Rotten Tomatoes: 100%
Streaming Platform: Netflix
Rick and Morty don't delve much into fantasy parodies but when they do, their episodes feel like a mature-rated version of Adventure Time. It's one of Cartoon Network's most successful shows in the previous decade and holds its own weight well, perhaps even timelessly.
Adventure Time is the therapeutic and psychedelic romp of best friends Finn and Jake as they go around the post-apocalyptic land of Ooo helping the Candy Kingdom and getting into adventures that are the Rated G or E-equivalent of a psilocybin trip. The show's music, for that matter, is top-notch as well.
---
1. Gravity Falls
Director: John Aoshima, Aaron Springer, Matt Braly
Writer: Alex Hirsch
Voice-over Cast: Jason Ritter, Alex Hirsch, Kristen Schaal, Linda Cardellini
IMDb Rating: 8.8/10
Rotten Tomatoes: 100%
Streaming Platform: Disney+Hotstar
Apparently, Alex Hirsch, the creator of Gravity Falls, is a close friend of Justin Roiland of Rick and Morty. As such, fans shouldn't be surprised to see some Rick and Morty Easter eggs here and there in Gravity Falls and vice versa.
Gravity Falls is also a wacky series of adventures of Dipper Pines and his twin sister Mabel as soon as they set foot in the small, weird, and paranormal town of Gravity Falls. Don't be fooled by the Disney channel tag, it's brimming with dark and adult humor and innuendos.
---
FAQ
What do I watch after Rick and Morty?
If you like "Rick and Morty" you are looking for offbeat, humorous and entertaining movies or TV shows about a mad scientist, dark humor, scientist, time travel, adventure, prodigy and graphic violence themes of Animation, Adventure and Comedy genre shot in the USA. here are some shows like Rick and Morty: Gravity Falls, Adventure Time, Bojack Horseman, Invader Zim
Is Rick and Morty connected to solar opposites?
Solar Opposites is a Rick And Morty clone – and it's almost as good as the real thing. Aliens have a long and colorful history with suburbia.