There are a lot of great Netflix shows to stream, and that becomes especially true if you're a fan of animation. Alongside some of the best anime series, Netflix offers a wide variety of animated shows for adults and kids alike. If you're looking for the best place to watch cartoons online, it's a great platform to do so.
Whether you're looking for a relaxing cartoon or some mind-bending adult animation, the streaming platform offers something for everyone. To help you find what you're looking for, we've gone ahead and highlighted some of our favorites below. Here are our top picks for the best cartoon series on Netflix in 2021.
The legendary Nickelodeon series that ran from 2005 to 2008 is on Netflix now, to the delight of its fandom. Yes, the show did spawn M. Night Shyamalan's very bad live-action film adaptation, but if that's been your only exposure to the franchise, don't let that stop you from watching this smart, touching, adventurous cult classic. The series centers around a 12-year-old named Aang who wakes up after he's been frozen for a century to a quest to fulfill his destiny as the Avatar, and bring peace to the world.
Big Mouth
Name a more stacked line-up in comedy than the cast and writer's room of Big Mouth. Voiced by the likes Nick Kroll, John Mulaney, Maya Rudolph, and Jenny Slate, the series is penned by an equally wonderful blend of seasoned vets and up-and-comers. It's no wonder that Big Mouth has had a quick road to three seasons (and more to come!). The sitcom is a wonderfully anxious, imaginative, and arousing exploration of puberty in suburbia.
Bojack Horseman has become somewhat of a new cult classic as the dark comedy series has matured over time. What started out as an up-and-coming animated series has morphed into an incredibly thoughtful look into mental health and Hollywood. For a predominantly personified animal cast, it's an incredible take on the human experience.
F is for Family
F is for Family is largely based upon the life of stand-up comedian Bill Burr in the 1970s. As its name would suggest, the series follows largely along the vein of humor that is the trademark of the famously anti-political correctness comedian.
She-Ra and the Princess of Power
This reboot of the 1985 Filmation series She-Ra: Princess of Power is as empowering in its narrative as it is in its wonderfully queer world-building. Its titular heroine is Adora, a young girl who soon realizes her superpowers. She leads a band of powerful princesses to defeat the evil army known as the Horde.
Disenchantment
Matt Groening brings his signature style to the very distant past with Disenchantment, a medieval fantasy series about the misadventures of a wayward princess and her sidekicks, an elf and a demon. For those who have enjoyed the gentler situational comedy gags of The Simpsons and Futurama but who want to see them in a fantasy setting like Game of Thrones, the show is a must-watch.
Naruto
This beloved anime adaptation of the Japanese manga series, Naruto, will be sure to please its longtime viewers along with a new generation of young fans. The series follows Naruto, an orphan who has inherited a spirit demon within him, as he becomes an all-powerful ninja and, soon, leader of his village.
Blood of Zeus
This violent, visually stunning series is a fresh take on Greek mythology, following a young man who learns he's the son of Zeus and has to fight off an army of demons. Along the way, classic gods face off in an epic battle. At its most gruesome, Blood of Zeus might even remind you of Starz's Spartacus. It's intense, poetic, and way too bloody for the kiddos — but for adult fans of anime or Greek myths, it's the nectar of the gods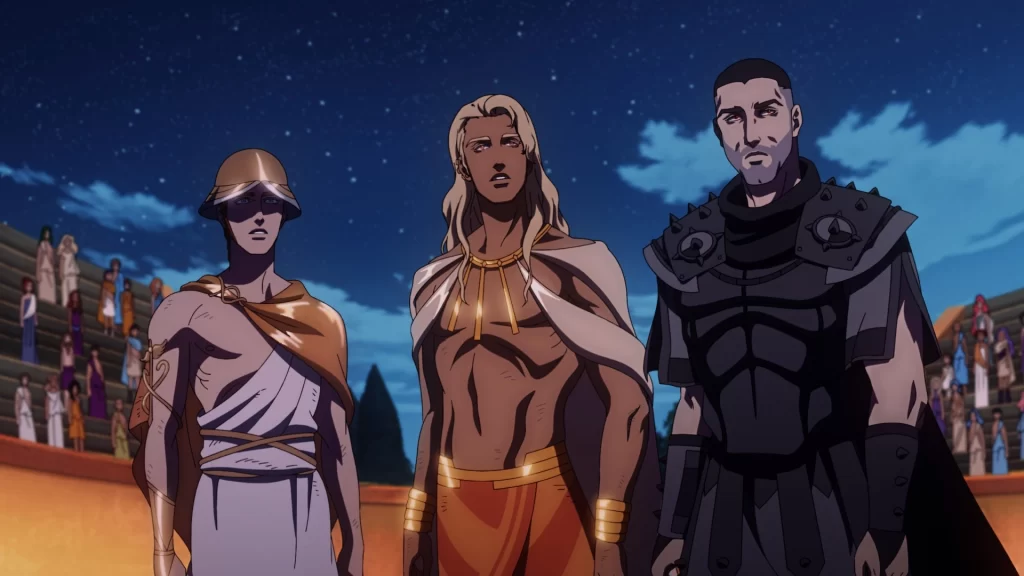 Not all episodes of Love, Death & Robots are created equal, but the best ones are unforgettable. This adventures collection of sci-fi-inspired animated shorts runs the gamut in animated styles, and each has its own tone, from funny to violent to sexy. And yes, this show is seriously NSFW. The best episodes include the madcap "Alternate Histories," the silly-yet-bleak "When the Yogurt Took Over," and the steampunk anime treat "Good Hunting".this is one of the best adult cartoon on netflix
Castlevania
Fans of the hit video game Castlevania were in for a treat when Netflix decided to give it the anime treatment, with all the requisite violence and adult language the dark subject matter deserved. The series centers on a vampire-hunter who aims to stop Dracula from taking out his vengeance over his martyred wife on everyone in his path, and the action scenes alone make this one well worth the watch. Season 3 is being hailed as its finest yet, and a fourth season is on the way.