Sure, you can live that healthy life by spending your weekend exploring these beautiful hiking trails and islands around Hong Kong, kudos to that! But if you're a homebody, who simply enjoys catching up on the latest binge-worthy TV shows on a beautiful Saturday, that we've put together a list of the best cartoons for adults – don't feel offended by their honest and brutal dark humor!
1. Rick & Morty
Rick and Morty is one of the most philosophical and ingenious adult cartoons broadcasting on Adult Swim. The story revolves around Morty, a kid with a learning disorder, and his grandpa Rick, an obnoxious self-righteous mad scientist who travels through universes and dimensions causing catastrophes. Every character in the show is dysfunctional, there is no hero and no villain. The show touches upon the absurdity of existence, and that survival is just the romanization of meanings and ideology that we feed ourselves in order to survive in a numbing capitalistic society as a collective being. Are we alive? Are we just clones? Rick and Morty question the authenticity of life and provides a very meta viewing experience.
First episode date: 2 December 2013
Program creators: Justin Roiland, Dan Harmon
Writers: Justin Roiland, Dan Harmon, Ryan Ridley, Dan Guterman, Jessica Gao, Jeff Loveness
Creators: Justin Roiland, Dan Harmon
2. Gravity Falls
Gravity Falls is just another cartoon that is entertaining for both children and adults on Disney Channel. The animation revolves around the adventures of brother and sister Dipper Pines and Mabel, and their great-uncle Stan living in the mysterious town called Gravity Falls that is inhabited by supernatural creatures and paranormal forces. And if you're a fan of Rick and Morty, Gravity Falls is actually said to be one of the multi-universes shown in Rick and Morty, there're hints and Easter eggs dropping everywhere if you look closely into both shows – as the writers are really close friends, even though Gravity Falls doesn't contain such a dark world perspective in comparison.
First episode date: 15 June 2012
Final episode date: 15 February 2016
Program creator: Alex Hirsch
Animators: Rough Draft Korea Co., Ltd. Digital eMation, Inc.
3. The Simpsons
Having been around since 1989, The Simpsons undoubtedly is one of the best cartoons of all time. Following the lives of the working-class Simpsons family, it becomes a critically-acclaimed satire of American culture and the American dream. From American politics and religion to family disputes and personal beliefs, The Simpsons has found the perfect medium to criticize the ridiculous things that happen around us. Every character in the show seems to remind us of someone that we know, there's always that billionaire on the top, a clown that is tired of the show biz, and an inadequate person in a position of power that fails to solve any problems.
First episode date: 17 December 1989
Program creator: Matt Groening
Cast: Hank Azaria, Harry Shearer, Dan Castellaneta, etc.
Writers: Matt Groening, Dan Castellaneta, Conan O'Brien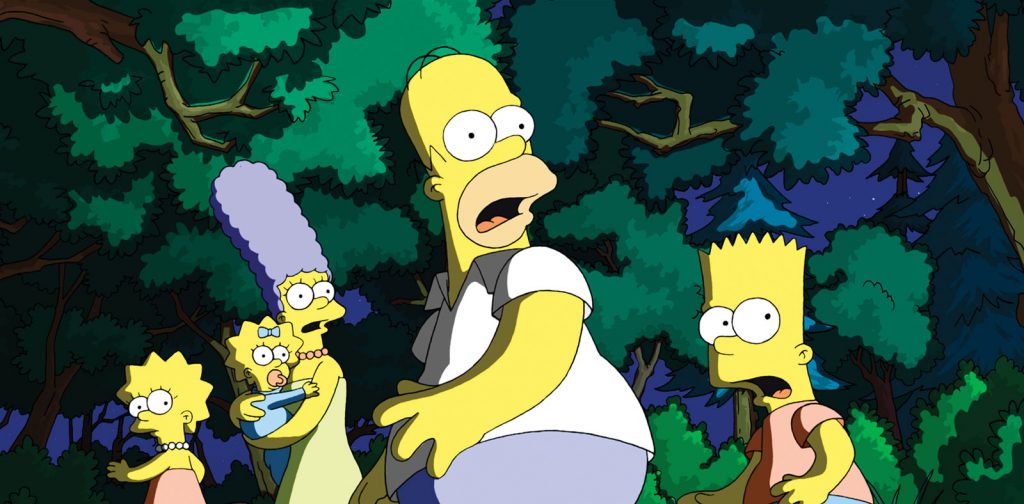 4. Bojack Horseman
Bojack Horseman is another hit animated black comedy on Netflix. It's set in a world where humans and anthropomorphic animals are living together. The main protagonist Bojack is a self-loathing post-fame Hollywood star that deals with alcoholism, depression and many other problems. It serves as a mockery of show biz and a harsh reality check on how alienated people are, and pokes through the façade of the happily-ever-after ending – there needn't be a window opened when a door is closed. Definitely one of the best cartoons on Netflix!
First episode date: 22 August 2014
Final episode date: 31 January 2020
Program creator: Raphael Bob-Waksberg
Writers: Raphael Bob-Waksberg, Mehar Sethi, Kate Purdy, Joanna Calo, Elijah Aron, Laura Gutin, etc.
Number of Seasons: 6
Country: USA
5. Regular Show
Ok so in this one, you got a bird and a raccoon as the protagonists. Need we say anything more? The series follows blue jay and raccoon as they pass their time working as groundskeepers at the local park. It's not all shoveling leaves and mowing lawns though, the duo makes use of their time by going on entertaining adventures as they try to stay out of trouble. This cartoon for adults is intelligent, poignant and downright hilarious.
First episode date: 14 August 2009
Final episode date: 16 January 2017
Program creator: J. G. Quintel
Writers: J. G. Quintel, Minty Lewis, Mike Roth, Toby Jones, etc
6. Family Guy
During the opening credits sequence, Peter Griffin and his wife Lois ask aloud: "Where are those good old-fashioned values on which we used to rely?" The answer might very well be: "Anywhere but here." That's because this popular adult cartoon from Seth MacFarlane pushes as many envelopes as is humanly possible, all while ripping the sitcom format to shreds. The result is a seemingly endless onslaught of purposefully bad taste. As it turns out, however, the bad taste can be pretty damn funny.
First episode date: 31 January 1999
Program creator: Seth MacFarlane
Writers: Seth MacFarlane, Alex Borstein, Mike Henry, Danny Smith, etc.
Number of Seasons: 18
Country: USA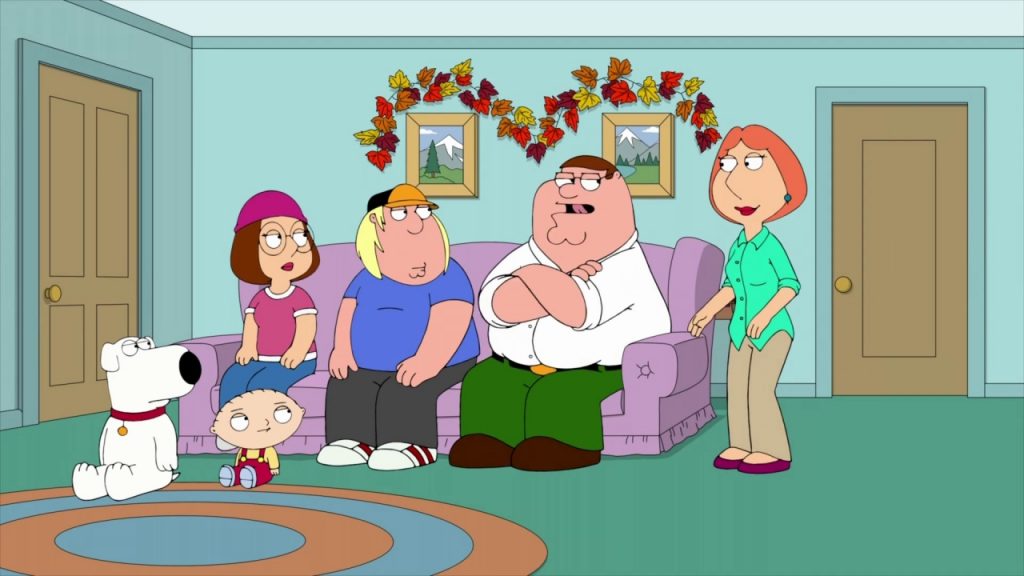 7. King of the Hill
King of the Hill is an animated sitcom that ran from 1997 to 2010 on Fox. Set in a fictional town in Texas, the show revolves around the Hill family and his next-door neighbors and households. This slice-of-life animated show illustrates precisely the issues of discrimination, racism, internalized sexism, complex war politics during that time period. By showing the audience the flaws of certain traditional values that are antiquated, the socio-political humor has won the applause of the majority of its viewers.
First Episode: January 12, 1997
Cast: Mike Judge, Brittany Murphy, Pamela Adlon, Kathy Najimy, etc.
Program creators: Mike Judge, Greg Daniels
Number of Seasons: 13
Country: USA
8. F is for Family
Semi-autobiographical animated sitcom F is for Family is a new Netflix original written by Bill Burr – who is also the younger son of the Murphy family as portrayed. It's set in the 1970s when it's appropriate and common to smoke indoors, uphold patriarchal notions and deprecate women, and emotionally abuse your children. The show discusses the problematic side of domestic emotional trauma happening inside the traditional households, and it once again reminds us how society needs to progress further on equality and banish unjust stereotypes.
First episode date: 18 December 2015
Program creators: Bill Burr, Michael Price
Writers: Bill Burr, Michael Price, Tom Gianas
Number of Seasons: 3
Country: USA, France, Canada
9. Beavis and Butt-head
Created by Mike Judge, this epoch-making comedy series premiered on MTV in 1993, when the network was actually as cool as it pretended to be. Contrary to preconceived notions, the exploits of two mind-numbingly stupid burnouts made for one of the most iconic and groundbreaking adult cartoons of all time. A somewhat lucrative movie version came out in 1996. Less successful was the 2011 series reboot.
First episode date: March 8, 1993
Program creator: Mike Judge
Spin-offs: King of the Hill, Daria, The Goode Family
Writers: Mike Judge
Number of Seasons: 8
Country: USA
10. Disenchantment
Speaking of Matt Groening, he also co-created this adult cartoon fantasy sitcom for Netflix. Upending a range of classic fairy tale tropes, it sends an alcoholic princess on various misadventures. Along with the ride is a demon named Luci and an elf named Elfo. Each episode comes to life by way of Groening's signature animation style.
First episode date: 17 August 2018
Program creator: Matt Groening
Writers: Matt Groening, Josh Weinstein, Reid Harrison
Genres: Animation, Comedy, Adult animation, Animated sitcom, Dark comedy, Historical fantasy, Fantasy television
Number of Seasons: 1
Country: USA